MONTINI has delivered the MONTINI electric forklift model MR 10.P to the Danish dealer "O.J. Truck". This new model .P is an HEAVY forklift (with 10-ton capacity fitted with integral fork positioner) equipped with weighted chassis as standard, ideal mainly for managing handling operations and demanding work in the manufacturing, heavy metal carpentry and timber sectors.
MONTINI has understood the need to offer the perfect forklift for particular needs:
front twin tyres;
rear weighted chassis;
screwed-on fenders;
new step for getting on/off;
sunshade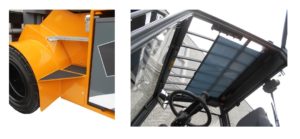 Want to know more about MONTINI electric forklift truck model MR 10.P?
Choose the specialization.
Call us on (+39) 0545 991001.