TECHNOLOGIES
Cutting-edge technologies and constant innovation.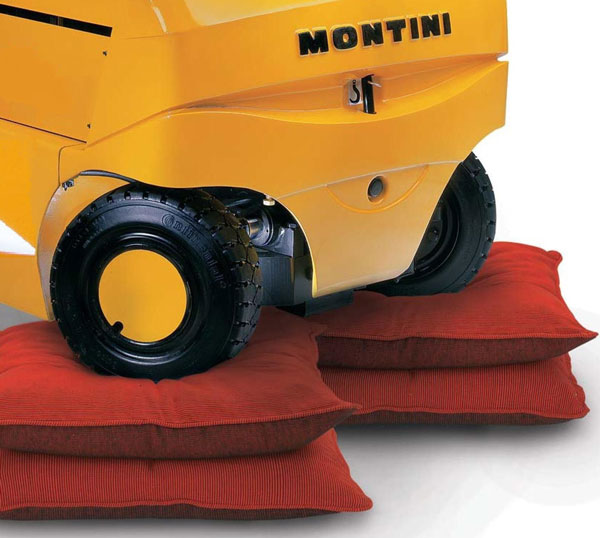 CSM (Confort Security Montini)
The only forklift in the world with shock absorbers.
MONTINI, always attentive to national and international safety regulations, is the only manufacturer in the world to have designed and patented a suspension system for forklift trucks: the patented suspension system named CSM (Comfort Security Montini), is designed to increase lateral stability and comfort as well as to significantly reduce impact and vibrations transmitted to the operator and the forklift.
The 48V and 80V "MR" forklifts are also available in the CSM version, i.e. with nitrogen hydropneumatic suspension:
on the rear steering wheels (48V 3-wheel forklifts);
on the rear steering axle (48V and 80V 4-wheel forklifts).
SUSPENSION FOR 3-WHEEL FORKLIFT TRUCKS
Patent No. 01308979
MONTINI has patented stability.
Stabilizing function: the suspension system is self-levelling thanks to a position sensor that guarantees a constant distance of the forklift from the ground in different load conditions.
When the speed exceeds a set limit, a microprocessor commands lowering of the suspension.
More speed.
More stability.
More safety.
MONTINI has patented comfort.
When the forklift travels over rough surfaces, the suspension reduces bumps and vibrations transmitted to the operator.
No vibration.
No fatigue.
Better work.
SUSPENSION FOR 4-WHEEL FORKLIFT TRUCKS
Patent No. 01321227
The CSM system reduces the amount of vibrations transmitted to the operator's body.
With CSM, the vibration value standardised to an eight-hour reference period is reduced by 20%.
Legislative Decree No. 187 of 19.08.2005 establishes the daily exposure limit value and the employer's obligation to:
carry out specific risk assessment for mechanical vibrations affecting the whole body in order to reduce them;
promote actions to improve equipment already owned and in use;
purchase new equipment in compliance with the requirements mentioned in the standards.

More safety, more stability, more comfort.
The CSM version for 4-wheel forklifts provides benefits for the operator and the work being executed:
cancels out vibrations and bumps;
reduces fatigue;
reduces occupational disorders;
comfort like never before;
more stable load;
cancels out stress and shocks that can damage mechanical and electrical components;
safer operation.
MONTINI SUPER STEERING
Steering where you never thought it was possible.
SUPER STEERING, designed and built by MONTINI, is supplied as standard on the 4-wheel forklifts of the MR series.
It consists of rear axle steering up to 101 degrees.
Forklifts fitted with SUPER STEERING, together with twin-motor traction that performs the function of electronic differential, reduce manoeuvring space requirements compared to forklifts equipped with a standard differential.
MONTINI SUPER STEERING guarantees:
maximum agility and ease of operation in the smallest and most limited spaces;
maximum manoeuvrability;
safe and stable load handling;
speed control when cornering.
HYDRAULIC CONTROLS
Precision and performance for better ergonomics and increased productivity.
MONTINI forklifts can be equipped with different hydraulic controls to ensure maximum efficiency and productivity, as well as exceptional driving comfort.
Joystick hydraulic control.
Intuitive and ergonomic, all hydraulic functions of the forklift can be controlled using a single control device.
As standard, all lifting unit functions are inhibited when the operator is not in the correct driving position.
Maximum productivity thanks to the use of two simultaneous operating functions of the lifting unit.
Fingertips hydraulic control.
Simple to use and easily accessible, installed in an ergonomic and adjustable armrest with directional control.
Simply operate the fingertip controls gently for agile, precise and safe manoeuvrability.
Pilot levers hydraulic control.
The hydraulic control with pilot levers ensures simple and reliable forklift manoeuvres.
Easily accessible, easy to use and installed in an ergonomic armrest which is adjustable with directional control, for comfortable driving positions.
MONTINI LIFTING UNITS
Great strength, optimum visibility and load capacity.
The  lifting units, designed and manufactured by MONTINI, are available in a wide range versions: DX and TX with total visibility (TV) and total free lift (TFL), so as to:
meet the most varied working requirements;
have maximum smoothness and greater stability;
ensure optimum visibility in all working conditions;
guarantee safe, strong and fast load capacity, even in high lifting operations.
MONTINI lifting units are unique in their kind since they are ground on the sliding guides of the bearings and on the angular guide shoes.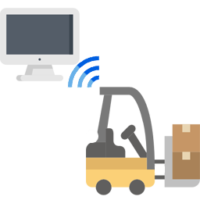 REMOTE CONTROL
Remote control of forklifts.
Through the innovative MONTINI "Remote Control" system, it is possible to remotely control your forklifts, in particular this is useful for rapidly detecting electrical faults, localising forklifts and activating the anti-theft device and blocking the vehicle's functions.
MONTINI FORK POSITIONER WITH INDEPENDENT FORKS
MONTINI forklifts can be equipped with the optional MONTINI fork positioner with independent forks, also known as a fork positioner with free individual fork movement.
This attachment is very useful and beneficial for the operator: when loading and handling euro-pallets (800 x 1200 mm) with pick-up from the 800-mm side, during truck loading operations, the operator can position the pallet close to the edge of the vehicle, without having to manoeuvre the forklift and with no risk of hitting and damaging the side of the lorry.
The MONTINI fork positioner with independent forks is great for replacing manual pallet jacks, with or without platform, thus significantly reducing truck loading times.