The MR ZINC series of forklift trucks represents the evolution of the special configurations that MONTINI has been creating and developing for over fifty years to meet specific needs of market niches and segments.
This series consists of 3- and 4-wheel models with load capacities of 1600 kg – 4999 kg.
The MR ZINC forklifts are fully hot-dip galvanised and fitted with stainless steel components and specific features making them unique in the counterbalanced forklift truck world.
STAINLESS STEEL AND ZINC TO SAFEGUARD HYGIENE AND PROLONG THE FORKLIFT'S SERVICE LIFE
Hot-dip galvanisation is carried out by total immersion of the components at a temperature of about 450°C.
The treatment creates an iron-zinc alloy and guarantees resistance to corrosive agents and unbeatable reliability compared to standard machines.
Maximum care is also paid to the surface treatments with zinc wire metallisation, which ensure excellent resistance to abrasion for all those components which cannot be subjected to hot-dip galvanisation.
Another plus point is the generous quantity of stainless steel components (pins, bolts, fittings, screws, etc.) and the watertight seal on most of the electrical components.

MONTINI SUPER STEERING
Rear axle steering up to 101 degrees, standard on 4-wheel forklifts, for excellent steering in the tightest and most limited manoeuvring spaces.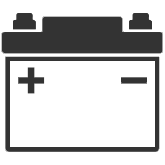 HIGH-CAPACITY BATTERIES
MR ZINC forklifts can be equipped with GA (Great Autonomy) batteries to work longer with no autonomy issues.
MR ZINC 1.6 GA, 48V, maximum battery 688Ah.
MR ZINC 2.0 GA, 48V, maximum battery 1032Ah.
MR ZINC 2.5 GA, 80V, maximum battery 860Ah.
PRODUCT SECTORS
Due to the technical characteristics incorporated into these innovative MR ZINC forklifts, they are mainly designed for use in the fish, dairy and meat sectors where there are high levels of saline and corrosion; food processing of fresh, chilled or frozen products; tanneries; humid and dusty areas; areas with a high risk of fire or explosion; on- and off-shore oil and gas sectors, where it is necessary to adopt special and non-standard technical measures in order to comply with regulations or to ensure a long life expectancy for the machine.
The characteristics of these sectors are:
the presence of salt, blood and water, that are highly corrosive for all ferrous components;
the need to wash the forklifts frequently, also using high pressure washers;
the presence of water in large quantities which is very harmful to the electrical and electronic parts;
the request for products suitable for contact with food, even accidental (e.g. special hydraulic oil and grease);
compliance with hygienic-sanitary or ATEX regulations.