To support customers in their transformation to Industry 4.0, for its MR forklifts MONTINI is making available a kit "Industry 4.0", so that they can make use of telecommunication functions, remote diagnosis and collect data on machine productivity.
The MONTINI set-up for Industry 4.0 entails installation on board the forklift of:
a remote control device for interconnecting with factory IT systems, i.e. a telecommunication and/or remote diagnosis device (configured to integrate with the original software installed on the forklift). By allowing communication between the forklift and a remote data portal which can be used to access, monitor and configure the machine, the device makes it possible to manage work orders in remote mode.
Once logged into the data portal, you can interact with the forklift and see the various parameters which can be monitored in remote mode in a graph-table format, including for example:
battery charge and voltage indicator;
temperature of inverters and motors;
total number of forklift working hours.
From the data portal it is also possible to send work orders which are shown on the display and forward a reduce speed command.
MONTINI forklifts fitted with kit "Industry 4.0" are certified in accordance with the indications provided in the "National Industry 4.0 Plan".
With regard to business incentives, the 2020 Budget Law states an intention to support the process of driving development and technological innovation, redefining the financial aid set out in the National Industry 4.0 Plan. The tax credit percentage (the same for all types of companies) for Industry 4.0 is set at 40% and concerns investments for the purchase of assets which are functional in the technological and digital transformation of companies.
In addition to the possibility of providing a kit "Industry 4.0", MONTINI is switching from a theoretical concept of Industry 4.0 to a concrete example, enriching its range of vehicles with the driverless MONTINI AGV (Automated Guided Vehicle) electric forklifts for warehouse logistics.
With its AGV forklifts, MONTINI is offering the market automation solutions and innovative technologies for Industry 4.0 applied to forklifts to increase performance and optimise production processes, while at the same time containing warehouse management costs, always with the aim of increasing productivity based on the needs of the individual customer.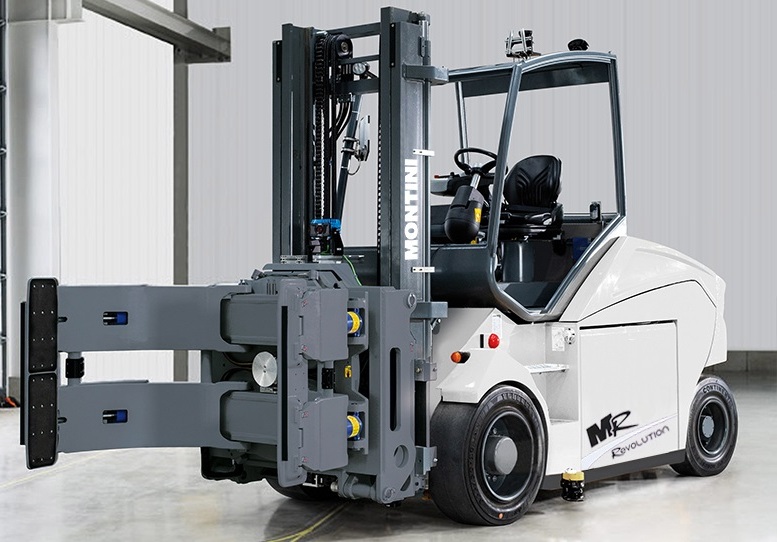 These unique forklifts on the market are both flexible and intelligent; thanks to a simple two-position selector, the forklift can be configured to operate in either automatic mode or be driven manually by an operator.
Having two operating modes makes these forklift trucks extremely popular with our customers: AGV and with operator.
Available in various versions, depending on the needs and loads being handled, they adapt to the pre-existing work environment thanks to being equipped with an electronic system for learning and mapping out the operating area.
MONTINI AGVs are fitted on all sides with four safety sensors, which, thanks to a special system, detect the presence of people and possible obstacles, safely stopping the forklift to avoid collisions thus protecting both operators and goods.
The electrical power supply of the MONTINI AGVs is completed with an automatic recharging function, by autonomously connecting the forklifts to the battery charging station by means of sliding contacts.
Want to know more on the topic of "Industry 4.0"?
Choose the specialization.
Book a free appointment now.
Call us on (+39) 0545 991001.