ML TRI electric tri-lateral forklift trucks, with standard, stationary driving position, for working in narrow aisles. For lifting heavy loads to high levels.
Based on cutting-edge technological solutions, our ML TRI electric tri-lateral forklift trucks guarantee high levels of productivity, safety and comfort for the operator, innovating business and reducing in company operating costs.

RATED LOAD CAPACITIES
( load centre 600 mm )
| Model | Load cap. (kg) | Lift hgt. (mm) |
| --- | --- | --- |
| ML TRI | 1000 | 8200 |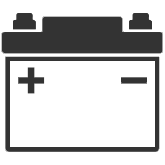 HIGH-CAPACITY BATTERY
48V battery with great autonomy
AISLE WIDTH
Tight aisle width of only 1600 mm (with pallets 800×1200 mm and stacking side of 800 mm).
AUTOMATION SOLUTIONS, LOGISTIC SERVICES FOR HANDLING IN INDUSTRY 4.0
Warehouse study to support organisations operating in an Industry 4.0
The ML TRI tri-lateral forklifts guarantee maximum performance in terms of elevation, also thanks to the camera installed on the forks which detects the storage position on the shelf for precise and safe operations.
Automatic 180° rotation of the fork carriage, to increase productivity in goods handling.
Optional equipment with a forklift speed reduction system for circulating in areas where there are pedestrians or in high-risk work areas.